The Digital Nomad Lifestyle Trend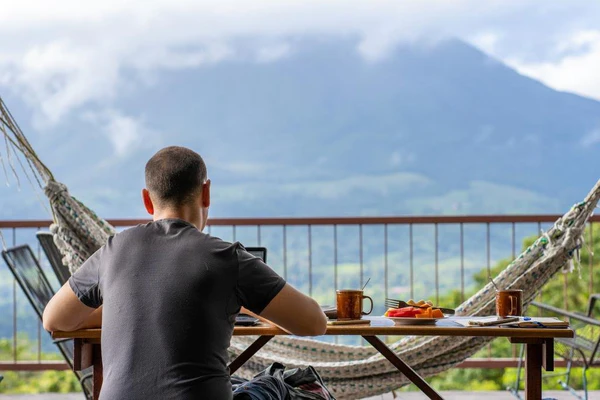 If you are thinking of switching from a permanent residence to a nomad lifestyle, there are a few things to think about. These include safety, cost of living, and the balance of work and life.
Work life balance
It is becoming a trend for more people to work as digital nomads. There are advantages, including freedom of hours, travel, and a variety of other benefits. But like any other career, it can also have downsides. For example, if you're working a lot of hours and don't have a lot of free time, you could burn out. Luckily, there are some things you can do to ensure your work-life balance.
If you're a nomad, you can use websites such as Anyplace, Meetup, and Digital Nomads Forum to meet other location-independent freelancers. They can also help you socialize.
It's a good idea to set realistic goals for yourself. This will give you an idea of what you want to achieve and help you avoid burning out. Remember that being a digital nomad requires sacrifice. You may have to work more, spend more time on projects, or miss out on certain deadlines. Make sure you stick to your short and long-term goals.
It's easy to get caught up in the whirlwind of life as a nomad. Working alone, putting off sleep, and never looking up from your laptop can easily lead to burnout. That's why it's important to stay focused and maintain a healthy lifestyle. Whether you choose to work from home or from a co-working space, make sure to schedule your activities and schedule time for yourself.
A great way to keep your mind off work is to have fun. For some nomads, that means spending all their time exploring. Others have their entire lives devoted to traveling. The most important thing is to find a balance between your work and your leisure.
Many companies have taken steps to ensure a good work-life balance for their remote employees. Some host company retreats, have video meetings, and offer micro-learning classes. These opportunities can help you to learn from others in the industry and network with people from other countries.
To keep your work-life balance, be patient and understand that it will take time to learn. Eventually you'll figure out what works for you.
Be patient and don't give up on your dream of becoming a nomad. Once you find out what works for you, it'll be much easier to work as a nomad.
Safety
When planning your digital nomad lifestyle, it is important to take into account safety issues. A lack of human interaction can affect your mental health, so make sure you have an opportunity to engage in social activities.
One way to help protect your privacy and data is to use a VPN (Virtual Private Network). This service hides your browsing activity on a local network. It also protects your sensitive files from theft or loss.
Another security measure is to invest in GPS tracking devices for your electronics. These devices can help you recover stolen items and prevent you from falling victim to thieves.
If you are worried about theft, consider purchasing theft-proof luggage. You should also carry your laptop and other important items in a case that is theft resistant.
Avoid traveling to countries where crime is a concern. Even if you live in a safe country, you should remain vigilant.
Digital nomads can become victims of home invasion. Some people prey on naive expats. Also, the societal customs of some countries can make women targets. Make sure you get recommended immunisation shots before you travel.
Digital nomads are often frequent travelers. Getting sick while you are on the road is not an uncommon occurrence. Keep your immune system strong by washing your hands frequently and sanitizing your gear.
When planning your trip, avoid crowded places. In the United States, 40% of women have experienced sexual harassment while traveling. Women are less likely to report these incidents than men.
You may need to purchase an ID card or other proof of address to prove you are a resident in a foreign country. Having a physical address can help law enforcement find you should your bag or computer disappear.
To maintain your safety and security while working on the road, you should always carry a backup copy of your important files in a secure cloud or hard copy. For extra protection, encrypt your files before sending them to your destination.
Nomads who travel extensively can experience a variety of unique adventures. But, a lack of regular contact with family and friends can lead to biochemical and biochemical issues.
Disadvantages
Digital nomadism is a trend that's growing more and more popular. It involves working from anywhere in the world. This lifestyle is great for people who want to experience different cultures and meet new friends. However, it has its disadvantages.
There's no guarantee that digital nomads will be able to get the job done. If they don't have a good work space, it can be difficult to concentrate. The reception of your cellphone can also affect your productivity. Moreover, you'll have a high carbon footprint.
You'll also have to learn how to manage your time effectively while traveling. For example, you might have to find a good grocery store and SIM card every few weeks. Plus, you'll have to budget for hotels and transportation.
Digital nomads have to be highly organized. They'll have to stay on top of deadlines across various time zones. They may also encounter technical problems while traveling.
Digital nomads can be more isolated than locals, because they don't live close to their work or family. This can make them more vulnerable to mental health issues. Nevertheless, it's important to keep in mind that you don't have to be lonely. With the right network, you can communicate with your family and friends on a regular basis.
Having a stable and well-paying job will help you keep a balanced life. Ideally, you should have a fixed home base where you can go to relax or spend time with your loved ones. Aside from that, you can use your laptop and Internet connection to work from restaurants or co-working spaces.
But while the digital nomad lifestyle might sound like a fun and exciting way to travel, it's not for everyone. Besides, you should always keep in mind that it has its disadvantages. And, you should not forget to take care of your community.
If you decide to pursue a digital nomad career, you need to understand the importance of a proper work-life balance. Without it, you might start feeling lonely and burnt out. Hence, you should make sure that you're doing the best you can.
In addition, you should also try to build a positive reputation. To do so, you need to be patient and persistent. By doing so, you can enjoy a long-term digital nomad lifestyle that can lead to greater freedom and flexibility.
Cost of living
The digital nomad lifestyle has become a global trend. More and more people are discovering the freedom and satisfaction that comes with working from a remote location. For some, it can be as simple as finding an affordable place to live and working on a freelance or passive income stream.
Digital nomads have found that they can have a better life without breaking the bank. By choosing the right destination, they can live in a place that is more affordable and allows them to travel and explore. A great option for this type of lifestyle is living in Thailand.
Chiang Mai, Thailand, has been called the digital nomad capital of the world. It is home to a variety of co-working spaces. Several offer high-speed internet and event spaces. There are also a variety of social events and meetups for nomads.
Medellin has also become an attractive destination for digital nomads. With over thirty universities, it is a hub for innovation and has won a variety of awards. Also, it has won a reputation for its social transformation. This city offers regular free plays and dance performances, and it has established a remote working infrastructure.
Tallinn, Estonia, is another destination for digital nomads. It is not a year-round destination, but it has been named as a 'digital nomad's paradise' for several reasons. In addition, it is a great place to start a business, open a bank account, and vote.
Many digital nomads live on as little as $1,000 a month. The main expenses are housing, transportation, and food. However, the monthly cost of living can vary depending on the standard of living in the area.
In addition to these costs, healthcare, entertainment, and incidentals can add up to $1,000 a month. This makes it important for a digital nomad to have a steady source of income.
To ensure a successful digital nomad lifestyle, choose a location that will fit your personality. You want to have a balance between work and play. When you are traveling, you can be more productive if you are working at a co-working space.